We blog because we have a passion and want to share it… Or because we just love writing… Or because we want to learn something new… Or because you want to build something, be it a blog, an email list or a community… Or simply because we have something to say!
But then one day, something happens that makes us go "Wow": Something that makes us feel even more excited by and (probably for the first time since we started a blog) really satisfied with the whole blogging adventure.
I called it "your first blogging triumph" and I asked a few of my blogging friends to share when they first experienced it.
What was yours?
Blogging triumph from: Anna Fox
I'll be the first to share my personal blogging triumph.
My first blogging win when I was able to triple my hobby site's traffic without ever trying to build backlinks!
Here's the full story: Boost Your Search Traffic with Text Optimizer
All I did was editing my existing content using the semantic analysis tool called Text Optimizer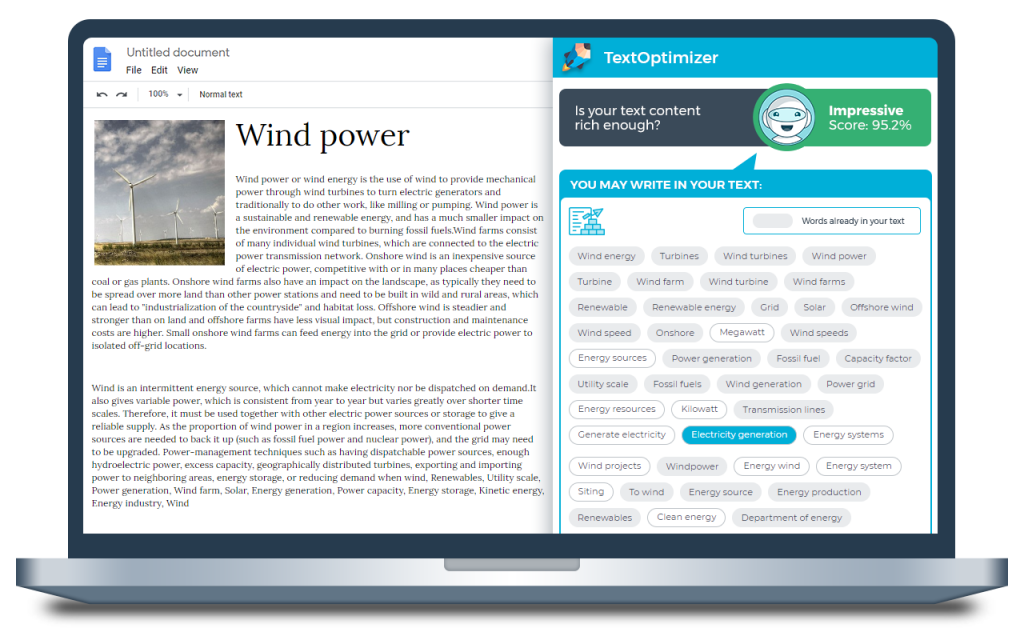 Text Optimizer also has a Google Chrome Extension and recently launched Google Docs addon. Both are free!
Blogging triumph from: Denisa-Alexandra Cinca (MyBloggingThing)
My first blogging triumph…wow that's a tough one. I have to say that my first blogging triumph was when I made my first affiliate commission. It was something like 1$ and a few cents.
To anybody else it's not much of a triumph but for me it was awesome because I then knew that I can make money blogging.
Even till this day I look back and still feel proud of myself. That was my very first blogging triumph.
Tip: This case study shows how important a domain is! It can help your blog's success! Make sure you are using this cool blog name generator to find a domain name that will help you succeed!
Blogging triumph from: Jennifer Peaslee (My First Reviews Getting a Small Spotlight)
My blog is still very new, about 3 months old, so there are a lot of small triumphs when you are starting out. I remember being mesmerized by statistics when the first few people stopped by my site, and being so excited when I saw my social media counts go up. The biggest thing (and it's little, but big for me) had to do with a couple of my reviews getting noticed.
You see, I write about shopping, saving money, coupons, deals, etc and from the start I wanted to be able to review products (like I saw bloggers on similar blogs do).
Reviewing, as it turns out, is a crowded market! It's quite competitive to even get a review most of the time, especially the paid ones. A new blog with few readers doesn't stand a very good shot, so you take the free reviews (if you can even get them) and cross your fingers on the reviews that pay small sums.
Well, about a month ago I got a chance at my first two reviews. One was a review of Madonna's new album Rebel Heart, and the other was a review of a new movie called Confessions of a Prodigal son.
I got access to digital copies of both, and small pay from one of the jobs and a prize drawing entry in the other. The compensation didn't matter to me – this is going on MY blog and I want it to be awesome! So I put my heart, soul, and especially time into the reviews to make them perfect.
A week after the first review, I noticed my Jetpack stats said over 20 people had come in that morning from Facebook – and the number corresponded exactly with the number of views on the movie review post. Upon inspection, the movie had shared my review on their FB page… I scrolled and noticed they hadn't shared any other reviews and I was so excited!
Then, about a week later, I got a pingback on my Madonna album review and went to investigate it. The marketing website (One2One Network) had chosen an excerpt from my review as one of only five to feature in their blog!
Okay, so for a seasoned blogger these are probably embarrassingly small accomplishments, but for me it helped me realize that I do have a unique voice that speaks loudly from a small blog, and is capable of penetrating the crowded review market, especially as my blog grows and gets more readers and followers.
It's motivation to keep doing what I'm doing – not to get discouraged, not to compare myself to bigger blogs, but to keep offering quality content that I stand behind and that is uniquely me.
Blogging triumph from: Gary Dek (Blogger)
One of my first blogging triumphs was when I ranked in the top 5 of Google's search engine rankings for a very tough and valuable car insurance term.
Between the GEICOs, Progressives, Nationwides, Esurances, etc. of the world, I was able to rank amongst the largest insurance companies in the world with no advertising budget or huge SEO campaign.
Once in awhile, in very unique circumstances, very high quality content does become the x-factor that can skyrocket a site in a competitive niche.
Blogging triumph from: Abdul Rehman
In blogging everyone starts at zero.
Zero Traffic
Zero subscribers
Zero Dollars(earnings)
Even though it takes some time to grow your blog to a higher level of traffic,subscribers and earnings but it's worth it.
My first blogging triumph or WIN came when one of my post was featured on marketingland.com which is a huge publication about Online marketing and SEO in particular.
The day my post was featured i received hundreds of visits to that post alone and other posts as well. That was the most trafficked day of my blog since the beginning.
I did my research to find out why it happened. It turned out that my tweet was retweeted by the curator of that article ans she included it in her round up.
Blogging triumph from: Mattb Gates (Web Developer)
It is something I try not to take for granted, but many people do write me emails complimenting my articles and my website, and while I just reply back that I am very appreciative of the compliments, it is truly an honor to receive compliments from people recognizing my hard work.
I also realize, and again – try not to take for granted – but I get a half-dozen to a dozen emails a week that are from visitors/readers/fans/people/small businesses/big businesses and even countries (Ireland) wanting to contribute articles, advertise on my website, or some other requests.
I find myself logging into my website's inbox everyday as if it were my job just to check emails, and I do reply to every single one of them personally, and that truly is my blogging triumph.
Blogging triumph from Freedom Preneur
My first blogging triumph that I've had was about 1 and a half months after I got started. Up until that post I had been creating content and ineffectively promoting that content (I didn't really have a clue what I was doing back then), but getting no visual results from it.
Until that one day, when I woke up to an notification from WordPress telling me about a new comment.
Nothing special you might say…
But, for me this was a victory. This was actually the first time someone I didn't know commented on one of my posts telling me how great that content was and how it was extremely helpful to her.
No matter how small that victory might seem now, at that time it was huge and an incredible boost to motivation. It's those small victories that eventually lead up to bigger achievements and to even bigger achievements thereafter.
Blogging triumph from Cormac Reynolds
One of my first notable blogging triumphs involved appearing on Social Media Today as part of syndication from a blog I worked on for a digital agency here in the UK.
Pretty nice to see your name on a big industry blog and a couple of hundred social shares too if I may say so one of my first notable blogging triumphs involved appearing on @socialmedia2day.
Please share your memories in the comments! I'd love to hear from you!