Logos are the identity of your brand, so they have to be given due attention. A good logo can sell your product or service without you having to say a word. This is why most successful big businesses today have an eye-catching design to aid their business model.
Designing a good logo could be the only thing differentiating your brand from the competition. It helps in driving customers' buying decision. Your logo is what most customers will first come in contact with; this is why you should get a good business logo.
To get a good logo created, you don't need to have the largest budget or the most professional graphic designers. What you really need is a guide that shows you the important things to keep in mind when designing a brand logo.
This helps your brand with a huge marketing boost, and ensures returns on your investment.
Important Things to Consider
It is vital to ensure you create the best logo for your brand.
You want your brand to be memorable, and there's no better way to make it happen other than creating a memorable visual identity.
According to Megaphone Marketing,
If you're a small start-up looking to hit it big, the design of your logo should also be closely monitored.
Namify is a cool brand name generator that can help you with your logo concept when you are still looking for your business name: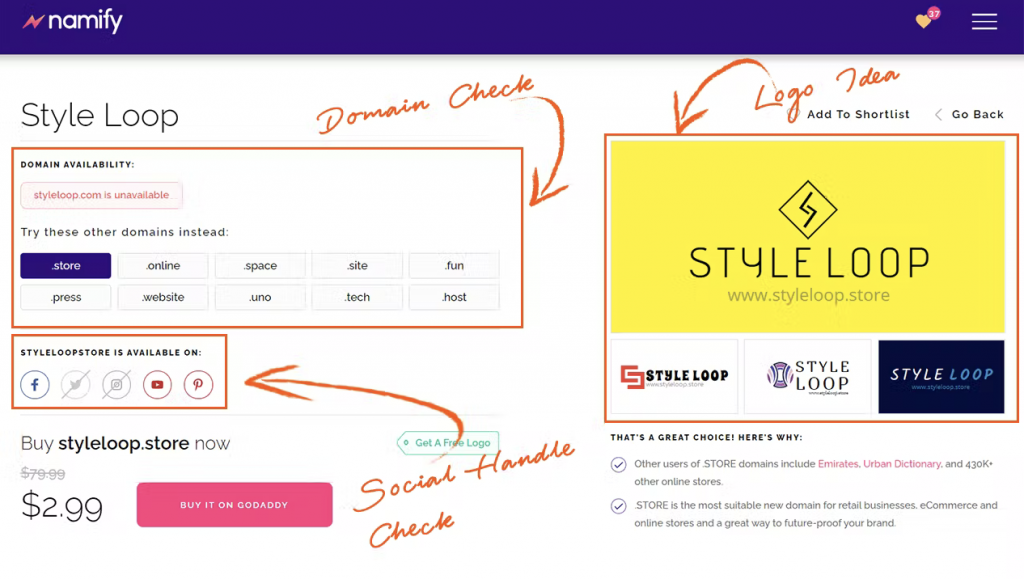 Also, if you are a big business looking to change your brand image, these steps will help your brand logo creation:
1 – Keep Your Logo Design Scale-Friendly
Size is one component of a good logo design you can't overlook. During the logo design process, ensure you make the logo friendly across all possible scales. This is vital because your logo is going to be on your letterhead, your business card, your social media, posts, billboards etc.
This means that the sizes of the logo will differ greatly across media. Take the logo of Facebook for instance, no matter how it's scaled, it is still very visible.
To ensure your brand logo has its intended effect, you have to get the logo to be at the right size, making sure it fits anywhere. Try designing the logo and get a hard copy of the logo at small and large sizes. This will help you determine if more work is needed on the logo's scalability.
This is something simpleshow knows all too well, as they are constantly working with brands that have different logo designs and sizes, while also needing to correctly format them for whiteboard and explainer videos. Unlike traditional digital only videos, simpleshow is often taking digital files and printing them out for completely custom video design work.
This is just yet another example of why having a professional logo design, not just in high-quality format, but also in a variation of scalable sizes and files is important.
2 – The Color of Your Logo Remains Vital
Colors have an instant effect on consumers, and certain brands, especially in the consumer goods industry, are known to design their logos with specific colors to influence consumers' buying decision.
In the process of getting a brand logo created, ensure you pay close attention to the color associated with the brand. The color of the logo shouldn't be unrelated to the brand, as this could be a huge design mistake.
The color used in creating a logo should be indistinguishable from the brand. For example, whenever you think of Coca Cola, red comes to mind. This is what your logo color should target to produce the desired effect.
However, you must note that the initial design of the logo doesn't need to have any colors. When the frame of the logo is set, color may even be irrelevant to some brands. Take a look at any of the most popular companies in the world today such as Apple, NBC and Nike see how they often make use of monochrome logos. This should tell you that making your logo a rainbow doesn't mean it will have its intended effect increased. Study the brand and what it identifies with before selecting a color.
3 – The Font Should Be Kept in Mind
Size:
If your logo has to contain letters, the size of the font is necessary to look at. This is because the logo's size and scalability could affect the font's overall outlook.
The font size should be legible and still visible when the logo scale is reduced. The font should also retain its definition when the logo scale is increased. It is important to do this as some fonts could be unrecognisable at certain scales.
Style:
The font style determines the legibility of your logo's font. It also adds to the logo's design. There are a lot of styles such as script, serif, italics for you to select from. You can also create custom fonts to suit the style of your brand's logo.
Type:
The font type also plays a big role in the overall design of the logo. Make use of unique fonts, as borrowing from trending font types could make your logo effective for a short while. Select a font type that is not in wide use but adds a better look to your brand's logo.
Number of Fonts:
If more than one font is needed in your logo, you have to limit adding too many font types to make the logo look professional. If it is possible, adopt one font type throughout designing your logo.
It's also important to realize that what's popular in fonts today, might not be so popular later on. This is why you often see companies change their logo designs and font styles over time.
4 – Creativity
When designing a logo, thinking outside the box is vital. Getting creative without losing it can get you a good logo design. Losing it means trying too hard to get a unique design logo. Take the logos of Nike and Apple as examples, they have a unique design but are still very simple.
Being creative in designing a successful brand logo involves getting a design no one else has, but keeping it as basic as possible. This is vital as the consumers that will come in contact with your product should find recognising your logo very easy.
For example, the Amazon logo is both creative and very simple in design–yet it has also changed in design several times over the years. It originally went from a horrible looking design that was barely recognizable, to a more simplistic edesign over time, then eventually with the one we are all familiar with today.
Today's logo for Amazon tends to be it's best. It's clean and the letters of the brand are spelt out with an arrow which also depicts a smile stretching from A-Z on the logo. This logo is creative with the arrow showing customer satisfaction with a smile, and the arrow moving from A-Z showing the ability of the store to provide goods starting with letters from all the alphabets.
4- Does the Final Logo Have All the Brand Needs?
This is the final thing to consider when getting a brand logo designed. Check to see if the designed logo conforms to the brand, make required adjustments if necessary and get the logo you desire. We highly recommend you take a look at Smashing Magazine, which has a wonderful write up on this, which include the five principles of effective logo design, which can be seen below.
Note that it is possible for abbreviations to be a part of your logo, so you may need to trim off some letters in your brand name if it's too long.
If there are too many effects on the logo, you should review the design and chip the unnecessary features out.
Test the logo across themes and sizes to ensure its consistency. After all your needs from the logo are satisfied, the next step is the unveiling of the logo as the new identity of the brand.
Before We Round Up
When you get the services of a designer for your brand logo, don't just pay for the design and leave the job to the designers. Ensure you help your logo designer by providing useful information. It is possible you know what you want your logo to look like, but can't create a desired design on your own.
Request your designer provides you with sketches of the logo as the design progresses, and request initial designs to choose from. When you have a design you fancy, make suggestions that could help the designer get you a better design. This could also make your final design come out better than expected.
Wrap-Up
If you consider these points when designing a logo for your brand, there is a higher chance of marketing success through your logo. It isn't an easy task, but the effort will be worth it in a short while.